Welcome to JI-Beh Martial Arts
Take the time to get to know us
Since 2008, JI-Beh Martial Arts has been providing Martial Arts training in Limerick and the surrounding areas. We work with individuals and families to build confidence and character skills needed in the real world. Here at Ji-Beh Martial arts, it's not just something we do. It's our way of life. We are very passionate about our studies, and hope to enspire others to do the best they can as well.
Schedule A Visit Today!
If one of our classes has you interested, call and schedule a visit!
We look forward to meeting you.
Call 207-793-4923
Email ji-beh@hotmail.com
Or Facebook Message Us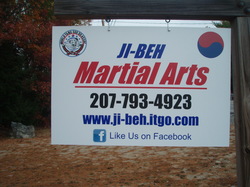 Click the Picture above to go to our Facebook Page
October 2015 Gup Test At The Line Elementary School
What We Offer
We have several programs we offer here at JI-BEH.
The Little Dragons is for kids ages 4-7, 30 minutes. We work to focus kids attention to complete tasks and listen. We incorporate games and activities to help train the mind and body.
Kids classes are for ages 7-12, 45 minutes. Kids classes have a greater exposure to martial training and conditioning. We challenge the students to give all out effort and achieve the goals they set out to accomplish
Teen / Adult Classes are for ages 12 and up, classes are 60 minutes. Here we get to work with concepts with greater details and explore the martial philosophy.
General Classes are for ages 7 and up, classes are 60 minutes. This class allows family members of different ages to work out together.
Women's Self Defense classes are every Tuesday 8:00 pm to 8:45 pm. We focus on your understanding how to use your body and confidence /awareness building.

Our Location:
603 Elm Street 04048 Limerick, Maine. 207-793-4923
Across the street from Gerry & Sons Snowmobile, Route 11
Entrance is around back to the basement.